Assembly with Ant and Dec!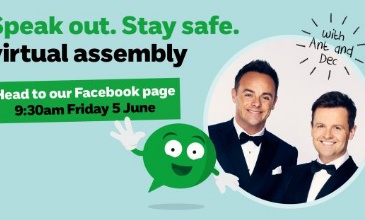 Join us this Friday at 9:30am for a very special virtual assembly.
While we aren't able to run our assemblies as normal right now, we are SO excited to announce that next Friday June 5th we'll be hosting our very own VIRTUAL Speak out Stay safe assembly alongside some VERY special guests... Drumroll please...
Ant and Dec
David Walliams
Watch the assembly here:
https://www.facebook.com/nspcc/?utm_source=Virtual-Assembly&utm_medium=Facebook&utm_campaign=202005_SOSS