Daily Challenges: Thursday 14th May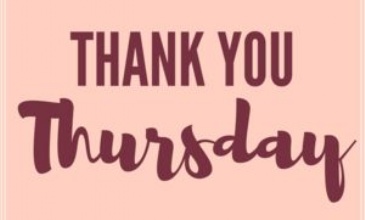 Who will you thank today? Or who have you got to be thankful for?
Hello Team Barnes...
We hope you had a lovely day of home learning yesterday and it is Thursday today. That means that we clap for the key workers at 8pm. who has been doing this so far? It makes me feel like there is a real sense of community :) Who could you thank today? What/who are you thankful for? Take a minute to reflect and think about this :) Maybe you could make a poster or picture to hold up during the clap? Or put in your window? I have attached some colouring and display lettering below that you may want to use or cut out.
Thank you to those of you who have sent their rainbow photos so far. Remember it is a picture of you (in your school uniform if you'd like) holding a rainbow. we will put them together and make our class photo for the year and remember the times we did have together. Please can I have these by Friday 15th May by email or on the Padlet. Spread the news to everyone as I don't want anyone to miss out.
Please see challenges below for the day:
RWI:
Miss Spurrier's group- ee- What can you see?
Words for spelling: bee, free, feet.
Sentence: I can see a bee.
Miss Taft's group- qu- queen.
Words for blending: quick, quit, queen.
Spelling: quick, quit, queen.
Sentence: I will not quit.
Mrs Barnes' group- ew- chew the stew
Words for spelling: chew, grew, threw.
Sentence: I grew my own plant.
Miss Merry's group- are- care are share
Words for spelling: care, share, bare.
Sentence: It is good to care and share.
Please record in yellow book. -Two lines of handwriting of the sound with finger spaces, three spellings with the sound in and record the sentence with a capital letter and full stop. I have attached a photo of how you may want to lay the home learning out in your yellow book.
RWI LIVE lessons with Rosie on YouTube:
Set 1
speed sounds- 9:30am
word time (green words)- 9:45am
Spellings- 10am
Set 2
Speed sounds and word time- 10am
Spellings- 10:15am
Set 3
Speed sounds and word time- 10:30am
Spelling- 10:45am
Story time with Nick (Mon, Wed, Fri)- 2pm
https://www.ruthmiskin.com/en/find-out-more/help-during-school-closure/
https://www.youtube.com/channel/UCo7fbLgY2oA_cFCIg9GdxtQ
https://home.oxfordowl.co.uk/reading/reading-schemes-oxford-levels/read-write-inc-phonics-guide/
https://www.ruthmiskin.com/en/find-out-more/parents/
Please see the 'learning at home file' for the handwriting patters, sounds and phrases, red words and alien words.
Miss Spurrier has recorded herself going through the RWI set 1, 2 and 3 sounds. She is trying to rival Rosie on YouTube. There is no password.
RWI challenge: Can you record a short video joining in with the sounds and post it on the padlet?
Enjoy and let us know what you think :)
https://vimeo.com/414752875 RWI Set 1 sounds
https://vimeo.com/414764363 RWI Set 2 sounds
https://vimeo.com/414761386 RWI Set 3 sounds
NEW:
Do you get a bit stuck on those tricky red words? Well look no further, Miss Spurrier has recorded herself going through the typical red words we cover in reception. Check out the video and see how many red words you know!
Maths:
Counting/Starter: Counting how many times you can write your name in 30 seconds.
Continue the pattern learning from yesterday but exploring with shapes...
Use the shape pattern photos attached. Encourage children to say each pattern aloud (it's a square, triangle pattern) and to create patterns around the edge of shapes as well as in straight lines.
Show children an AB and similar AAB pattern. What do they notice? What is the same and what is different?
Challenge: Can children make their own shape patterns. Ask children to describe their patterns. Can someone continue the patterns they have made?
Patterns could be made inside or outdoors.
Extension: https://www.topmarks.co.uk/ordering-and-sequencing/shape-patterns (Pattern shape game)
Links: AAB pattern song – musical maths youtube https://www.youtube.com/watch?v=PxGEcfyD49U
https://www.youtube.com/watch?v=MBjjxSx45-Q
https://www.youtube.com/watch?v=Lh3twupvl7M
Topic: Growth
Theme: Growth
Main: Mini beast hunt
We have been learning about mini beasts and where to find them. Recap: What is a mini beast? Where does it live? what is the special name for their homes? Today we are going to go on a mini beast hunt!
Extension: Go on a walk with your family or look in your back garden for mini beasts. Where do you think you might find them? Use the checklist attached below to see what you might find. Remember, do not take the mini beast out of their habitat. You can pick it up gently to look at it but please put it back. Maybe take some photos to post on the Padlet of what you found.
Links: https://www.youtube.com/watch?v=a8xgh2H5dGw
https://www.youtube.com/watch?v=1qup0TQ2lU8
Viking Academy Trust Writing Competition
Hi Everyone,
Yesterday, Mr McAuley (from Chilton Primary School) launched a new and exciting Viking Academy Trust writing competition! On this occasion though, we are extra fortunate because we have a professional author on board whose writing yours will be based ... Martyn Harvey, the author of The Boy with The Sauce Pan Hat, has very kindly given us special access to his poems, before they are released to the general public!
Day three's videos are below:
Remember, the competition will be formally launched on Friday, so sit back, put your creative hats on and enjoy the videos throughout the week.
And here's the link to the next part:
ENJOY!
+++++++++++++++++++++++++++++++++++++
Don't forget to use the class Padlet and post some funny things to your friends. Please remember to put your name in the comments and on your post as they all show up as 'anonymous'. It is very secure as I have to approve all posts and comments that come through. PADLET NOW HAS A PASSWORD: rapshome You can post as many times as you like! Remember to comment on other people's amazing work too.
Please send any photos/videos and questions to: j.barnes@ramsgateartsprimaryschool.co.uk
Have a lovely day and please keep in touch :)