Reading champs!!!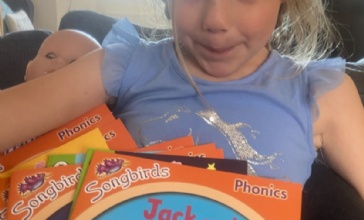 Penny is proud to announce that she has read over 50 books!!! Her adults have been very proud of her and so am I! She has particularly been enjoying the Songbirds range of books written by a host of famous authors. I know that Penny loves to share picture book stories to. Who doesn't!!!
Reading can be tricky, or it might be something you love! Either way reading every day is so so important for all of your learning.
I would love to hear from you about how many and which books you have been reading and which you have enjoyed most. Any number is great!
I will share some of my favourite story books too!
You already know the importance of reading for children, but here is a good piece detailing the benefits for development https://www.highspeedtraining.co.uk/hub/why-is-reading-important-for-children/